[Editor's note: This article originally appeared at ShotgunLife.com]
In Part I, we met Charlie Mincey, former Georgia moonshine runner who would be our host for evaluating the new Ruger Red Label on sporting clays courses that we visited in a restored 1939 Ford Sedan moonshine car.
The black 1939 Ford Sedan powered up hills through the wooded back roads of Georgia moonshine country centered around Dawsonville. Occupying the passenger seat, 82-year-old Charlie Mincey recounted his adventures of "trippin' moonshine" at the tender age of 14.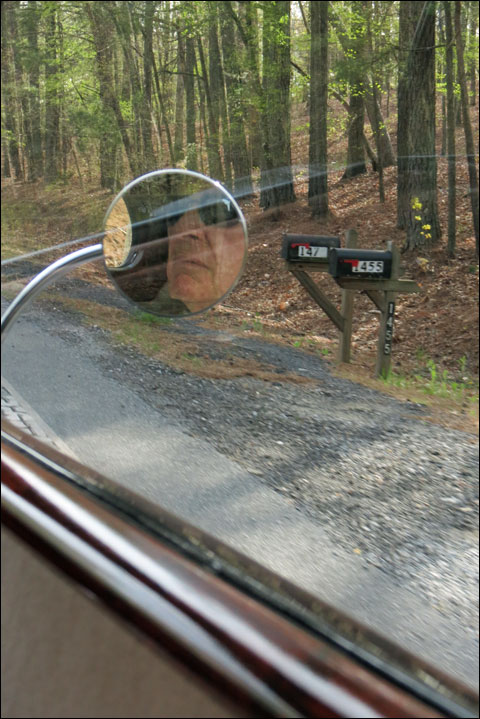 He started driving in Atlanta at age 10 by shuttling cars for his daddy's body shop. At 12, he received a driver's license and within days got smacked with a speeding ticket for driving 85 behind the wheel of a 1935 LaSalle. Charlie loved to drive fast and would soon find a way to make money at it.
In fact, the spacious back seat I occupied with the 12-gauge Ruger Red Label, along with the passenger seat, would have been removed in Charlie's souped-up '39 to accommodate anywhere from 50 to 200 gallons of hooch in gallon steel cans. The 60-mile sprint along Route 9 from Dawsonville to Atlanta would take about an hour "if no one was chasing you," he said. "I was lucky. I never got caught."

The refurbished gray mohair interior resonated with drive-train gears and the throaty combustion of eight pounding cylinders. Charlie, his son Chuck who owned and drove the car, and myself were motoring to the Foxhall Resort and Sporting Club in Douglasville — first of three sporting clays courses where we shot the second-generation Ruger Red Label.
"My daddy knew I was trippin' moonshine, but he didn't approve of it," Charlie recounted during the ride.
Maybe that's because his father, who attended Georgia Tech University, was a race-car driver.
The Ford's high, curved roofline provided generous views, and listening to Charlie you could see deep into the woods where secret copper-pot stills once converted corn mash into potent, clear liquor.  The stills would be stashed in hollars, barns and even underground to evade tax-collecting Revenue Agents.
Arriving at Foxhall is a far cry from the backwoods life of moonshiners. You enter down a path lined by pristine white horse fences and brilliant green pastures. The resort's 1,100 acres include a world-class equestrian facility, a 15-station sporting clays course, two 5-stands and a wobble trap, an archery range and 3-D course, 16 lakes for boating and fishing opportunities, guided ATV trail rides, and more than 15 miles of biking, hiking and horseback riding trails. A two-mile stretch along the Chattahoochee River encompassed bocce ball, croquet, volley ball, golf driving range and other sports. The sporting clays course has been endorsed by the Beretta Trident Program.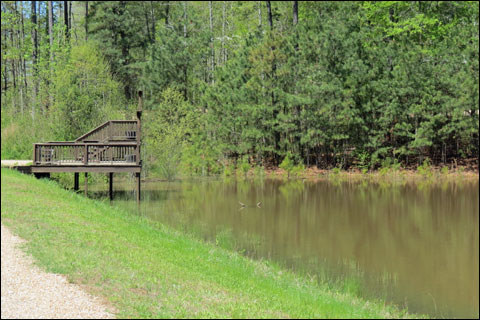 After checking in at the quaint, stone Visitors' Center, we loaded the golf cart and headed to the sporting clays course. The long trail there bestowed spectacular vistas of the property.
The Foxhall sporting clays course is assimilated into the hills and lakes — immersing you into the leafy habitat with minimal intrusion from other groups. Various stations, perched atop a prominence, threw crossers and quartering outgoers into a shallow basin below. The last presentation hurled clays over a lake. For a family resort course, the challenge proved higher than you would expect.
Three aspects of the 12-gauge Ruger Red Label became immediately apparent: tight wood-to-metal fit, trigger creep and surprisingly neutral handling.
Several shots were required until the ⅛-inch or so of slack in the trigger became manageable. In a subsequent conversation with Ruger Red Label product manager Craig Cushman, he said that no trigger slack should have been present.  In a ready position on the stands, the natural solution was to slightly depress the trigger. I estimated the pull averaged 4½ pounds with a comfortable grade of resistance.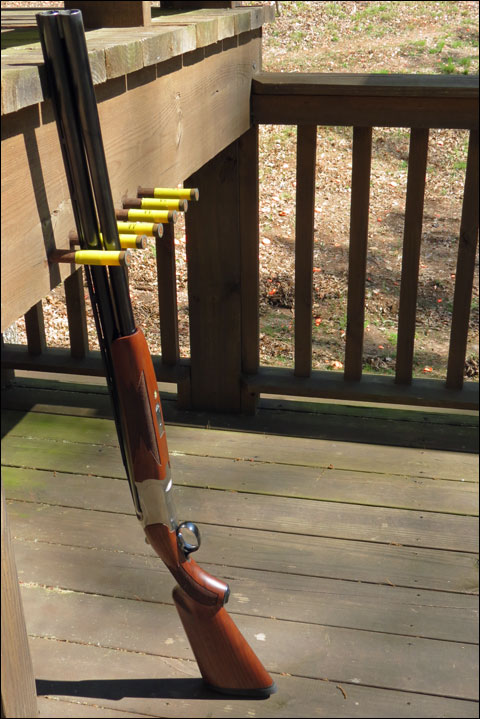 Just as trigger slack was integrated into my pre-shot routine, the auto-safety required consideration after closing the loaded shotgun as well. There's always that learning curve where you go for the shot to discover the safety still on. Overall, though, by the third station I could focus on the dynamics of the Ruger Red Label.
The pistol grip felt a tad too narrow. The 14½-inch length of pull and auto-safety suggested the shotgun was meant for field use with a jacket and probably gloves. In that case, the pistol-grip radius would probably be just right.
I started with 1⅛-ounce Rio target loads rated at 1150 feet per second. The recoil was shocking, especially to the face, prompting a change to 1-ounce B&P shells at 1200 feet per second. The B&P shells produced near-zero felt recoil, dramatically enhancing the Ruger Red Label experience.
The easy-open system cocked the action, eliminating the struggle to force open the gun as we often find on new shotguns that have a so-called "breaking in period," which serves as pseudonym for lousy manufacturing tolerances.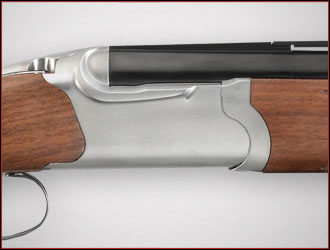 Several design elements of the shotgun fell into the category of personal preferences. For off-the-shelf dimensions, I'll take a shorter length of pull over one that's longer. At 14½ inches, the Ruger Red Label shouldered smoothly. The plain, screwless, stainless steel receiver with rounded bottom edges and forward rake where it joined the stock appealed to my minimalistic aesthetic. Everyone appreciates exquisite engraving, but the sleek, burnished quality evocative of aircraft got my vote.
Wood grade was perhaps the most obvious indication that the Ruger Red Label lists for $1,399. However, the matte oil finish, figuring and blued grip gap with gold Ruger logo appeared more noble than other over/unders in the price range. The slender, tapered forend aided gun swing with a nice feel. Vented 28-inch over/under barrels enriched appearance and performance.
Ruger reported that the balance point of the new Red Label had been moved back — addressing a long-time gripe of muzzle bias on the original. The new Ruger Red Label swung with neutral grace along the line of the targets. If muzzle bias were to manifest it would have been on the stations where fast targets flew lower than the station.
At 7.7 pounds with 28-inch barrels you could argue the 12 gauge is still too heavy for hunting over dogs. Interesting, though, is that while many inexpensive over/unders don't possesses that material mass to inspire the control and confidence of pricier shotguns, the Red Label swings more like a premium model through its redefined balance and inherited heft. You'd never mistake it for a Perazzi; nevertheless it rivals handling of shotguns costing $1,000 more.
Of the five flush chokes standard with the Ruger Red Label, improved cylinder and modified worked well at Foxhall. We've always seen superb patterns with B&P shotshells and the factory chokes seemed to retain those expectations.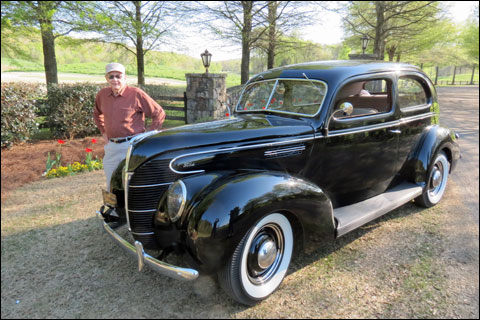 After 100 rounds of sporting clays we climbed back into the 1939 Ford Sedan. By now Charlie's stiffer movements revealed the effects of flipping several cars while running moonshine and racing stock cars plus the innumerable times he crashed into track walls — decades of banging about finally requiring back surgery in 2010.
His moonshine calling lasted five years. At 16 he and Carolyn married. It took three years before she could convince him to stop (they're still together).
It was understandable. "Any time I got run by the law, I never went home that night," he recalled from the front passenger seat. "She said I could race cars, but no more moonshine."
He never did drink the stuff. "Moonshine was for selling, not for drinking." Making a buck per gallon as the driver, he spent the proceeds on "cars, fun and fancy clothes and partying."
Charlie supplemented that moonshine income by working in his father's body shop and racing on quarter-mile and half-mile outlaw oval dirt tracks — consistently winning in heavily modified '34, '37 and '39 Ford coupes powered by tweaked-out V8s based on the engine under the hood of the car that brought us to Barnsley Gardens Resort.
The 12-station sporting clays course and covered 5-Stand of the SpringBank Sporting Club is a quick drive from the Barnsley Gardens Resort. The magnificent gardens and remarkable manor-house ruins date from the mid-1840s, built by Englishman Godfrey Barnsley who accumulated his fortune in shipping and cotton. He had purchased the 4,000 acres to build a mansion for his wife, Julia who unfortunately died during construction. Barnsley stopped the project but several years later he dreamt that Julia visited him in a formal garden, where she instructed him to finish the estate for their children and future generations.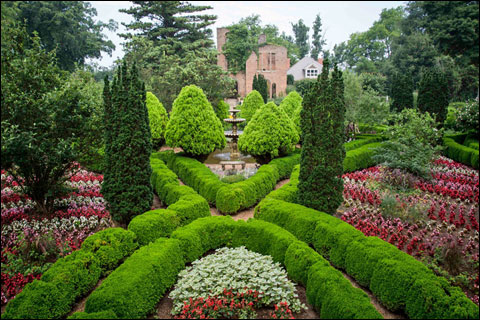 The house and gardens were ravaged during a Civil War battle on the property. In 1906, a tornado destroyed the roof on the remaining structure. Descendants of Godfrey and Julia occupied the estate until it was auctioned in 1942. The gardens and manor house fell into disrepair over the ensuing years.
In 1988, Prince Hubertus Fugger of Bavaria purchased the estate, reviving and expanding the historic gardens. The manor house ruins were restored. He constructed luxury guest cottages modeled after a Bavarian village.
Activities include golf, horseback riding, tennis, fly fishing and boating. The SpringBank Sporting Club hosts the Caesar Guerini Wings & Clays School — the only of its kind in the country. Seasonal quail hunts are available.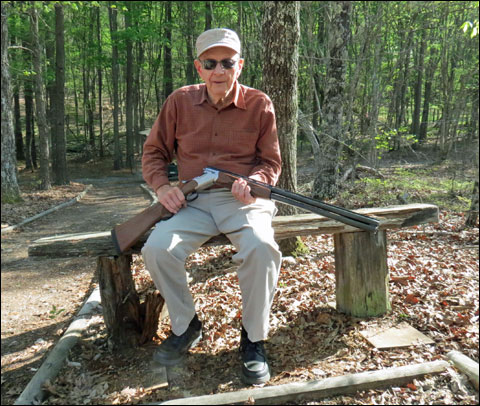 The SpringBank Sporting Club holds approximately 10 National Sporting Clays Association tournaments per year and so the targets from a recent one were in place during our visit, giving a chance to push the Ruger Red Label harder than at Foxhall.
A bit of muscle was required to wring out the instinctual capabilities of the Ruger Red Label. The move-mount-shoot of faster birds benefitted from the improved balance yet the weight required particular determination in shouldering it while swing execution was smooth and even punctuated by a mental cue about trigger slack.
Progressing through the stations started to bring comparisons with a semi-auto. Certainly semi-autos have a huge fan base, but wing and clays shooters often purchase one because an over/under is priced out of their reach.
Considering a street price of some $1,100, the Ruger Red Label proved a favorable alternative for price-conscious enthusiasts who opted for a semi-auto strictly on cost. The Red Label handled better and in some cases the trigger was comparable or better.  When it came to gas semi-autos, the Red Label would be easier to clean, with an inclination toward greater reliability.
Now, with our first day shooting the Ruger Red Label done, and 200 rounds of sporting clays behind us, we formed initial impressions that it's a commendable shotgun for the money. We would have liked to see the 12 gauge shaved down to 7 pounds (or slightly lighter) accompanied by a crisp trigger. Given Ruger's overhaul of the new model, those improvements could have been budgeted into up-front developments and amortized over its life cycle — especially considering the original Red Label had remained in production for more than three decades.
In our upcoming third and final installment of "Sporting Clays in Moonshine Country With the New Ruger Red Label," we drive the 1939 Ford Sedan moonshine runner into the hills and deep ravines of Etowah Valley Sporting Clays. We'll visit the Georgia Racing Hall of Fame Museum to see the display devoted to Charlie Mincey and also throw back some Dawsonville moonshine.
Meanwhile, click here to read Part I.
Irwin Greenstein is the Publisher of Shotgun Life. You can reach him at [email protected].