My good impressions about this rifle began to form even before I had it completely out of the box. The wood, considering its figure, fit and finish, highly impressed me. This rifle is stocked very nicely and the fit to the tang is so good that it simply isn't a coincidence. The forearm is not fitted quite as nicely but the fine figure of the grain and the finish of the wood are there to appreciate as well. As the gun came out of the box, more impressive characteristics were noted.
Next Cimarron and Uberti get compliments for the sights on this rifle.
What I'm really referring to is the fit of those sights to the rifle's barrel. On too many of today's copies of the old Western guns, the sights are ill fitted with "air space" visible between the sights and the gun's barrel. That isn't the case with this gun; those sights are resting right on the barrel as they should be and no "extra light" can be seen in or above the dovetails. Little things like the fitting of the sights are certainly tokens of good 'smithing and craftsmanship.
Both the front and rear sights are equipped with set screws which need to be loosened a bit before any windage adjustments are made, then tightened again once the windage is set. The rear sight, of course, is adjustable for elevation as well.
Let me also give compliments for the finish of the metal. This rifle comes with an attractive color casehardening on the receiver, lever, trigger and hammer. On the original Winchester rifles color casehardening was available as an added cost extra, so the color casehardening can be considered just as authentic as it is attractive. The rest of the rifle's steel features which can be seen are nicely finished in a well polished dark blue. These pieces include the barrel and magazine tube, buttplate, nose cap, and the dust cover on top of the receiver.The original Winchester Model 1873 had an evolution with small but noticeable changes during its 50-year span of manufacturing. This gun from Cimarron represents one of the last versions, or third model, because it has hidden hammer and trigger pivot screws and the dust cover slides on an integral "ramp" on the top of the receiver. Also, the dust cover has no "thumb print" in the top.
This rifle has a trigger block safety which doesn't allow the trigger to be pulled unless the lever is held tightly against the lower tang. In other words, the trigger block doesn't allow the gun to be fired unless the action is completely closed. On the original Winchesters that trigger block became a standard feature in 1879.
My information about the Winchester Model 1873 rifles comes from The Winchester Handbookby George Madis.
That same handbook says the standard barrel length for a Model '73 rifle was 24 inches but barrels were produced from 14 to 36 inches. Also half-round barrels were made in all lengths but they are considered to be very rare. In other words, there might be an original that looks just like this Texas Brush Popper but we could have a hard time finding it.
I do value this rifle's authenticity.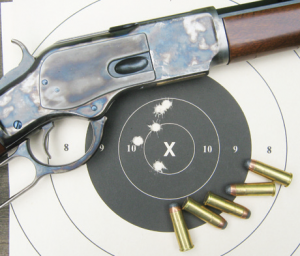 The best group was shot with R-P factory 200-grain jacketed loads
Cimarron and Uberti will also be complimented about the markings on this rifle. On the barrel is "Cimarron Repeating Arms" with an address and patent dates forward of the rear sight, plus "44 W.C.F." just ahead of the receiver ring. On the upper tang is "Model 1873" in script. The serial number is on the lower tang behind the lever and there are some almost unnoticeable proof marks or inspection stampings on the bottom of the receiver.
Also on the lower tang is found "A. Uberti-Italy" but you must open the lever to see it. Those markings certainly add to the "Western" flavor of this rifle.
There is a small bit of confusion in Cimarron's advertising for the Brush Popper. Their general ads say this short rifle has an 18½-inch-long barrel.
Then, in ads for each specific version or caliber of this model, they list it with an 18-inch barrel. That reminds me of Mark Twain when he was talking about dieting. He said, in effect, when following a written diet, be careful enough that you don't die from a misprint. And a misprint is just what that 18½-inch listing is; this rifle has just an 18-inch barrel.
My first shots with this short rifle were taken from a benchrest in order to sight the gun in and to do a little testing with various kinds of ammo. A chronograph was set up just about 15 feet ahead of the muzzle and that provided for some interesting notes to be taken.
The first shots fired were with Black Hills ammo using 200-grain lead bullets. Velocity from the 18" barrel with the Black Hills ammo averaged 1,220 feet per second (fps).
A better group was fired with some handloads using a 200-grain Speer jacketed hollowpoint over just 8 grains of Unique. That load was lighter than I would have guessed and it is not a load that I intend to use, but I had those good bullets on hand. Also, those bullets needed to be seated to the very top of the crimping groove in order to make the cartridges short enough to feed through the gun's magazine. Average velocity with the 200-grain hollowpoints over 8 grains of Unique was 995 fps.
The best group fired was with R-P factory loads with the 200-grain jacketed bullets. Five shots were poured into a group that was worthy of a photo and the score that group made on the 25 yard pistol target was a 50-2X. Those RP loads averaged 1,145 fps.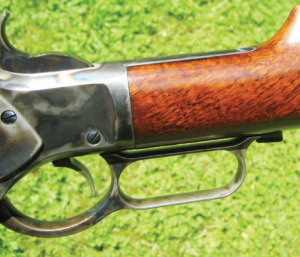 The fit of the buttstock at the wrist is superb, very nicely done
While shooting those various loads, it was quickly noticed that the faster bullets hit the lowest on the targets.
That is rather typical when bullets are flying in this gun's speed range. It seems that the slower bullets remain in the gun's barrel a "nano-second" longer and therefore the muzzle is at a slightly higher attitude because of recoil.
My favorite cast bullet for the .44/40 is simply from the old Lyman/Ideal #427098 mould. Many years ago I bought a double cavity mould for that number, then had a competent 'smith hollow point one of the cavities. So, with each casing cycle I get one solid nose and one hollowpoint with that mould. With those bullets I would load the solid nose with 8 grains of Unique for my six-gun and with 10.5 grains of that same powder for my rifle. It is quite likely that I'll be using those bullets with similar loadings again.
Those bullets from the #427098 mould must be seated so the mouth of the case is crimped just over the forward bearing band in order to function through this rifle's magazine.
Before finding that out, I had to back a couple of loads out of my gun's magazine through the loading gate because they were too long. That isn't hard to do, but it is an inconvenience. So, take note, don't use ammo that's too long.
But the load that I initially used for cowboy action shooting was neither of those loadings just mentioned. Instead I used solid nosed bullets from mould #427098 over 4.5 grains of Bullseye.
Those were not checked for speed but they sure worked well, hitting the steel silhouettes with ease from both this Brush Popper and my Colt six-gun. I'm glad to report the little Texas Brush Popper worked just fine.
Let me make just a couple more personal comments. I bought this Texas Brush Popper (from 3B Shooting Supply in Texas, online: 3bshootingsupply.com) because I wanted a repeating rifle that could be considered period correct for the buffalo hunting era. No, I don't intend to hunt buffalo with this .44/40 but it would make a good camp gun while hunting was being done with one of my Sharps rifles. I'm quite pleased with this gun (even though I might call it the 'brush pooper' on occasion). This is a rifle that can easily go along on deer hunting trips, maybe along with the Sharps again. And you might be seeing or reading more about this rifle because I am quite pleased with it; this gun is a real keeper.
Cimarron says their Texas Brush Popper version of their Model 1873 lever action rifle is the best balanced, lightest and quickest lever action available today.